photo by T. Gilbert copyright AP

New review of FREYA: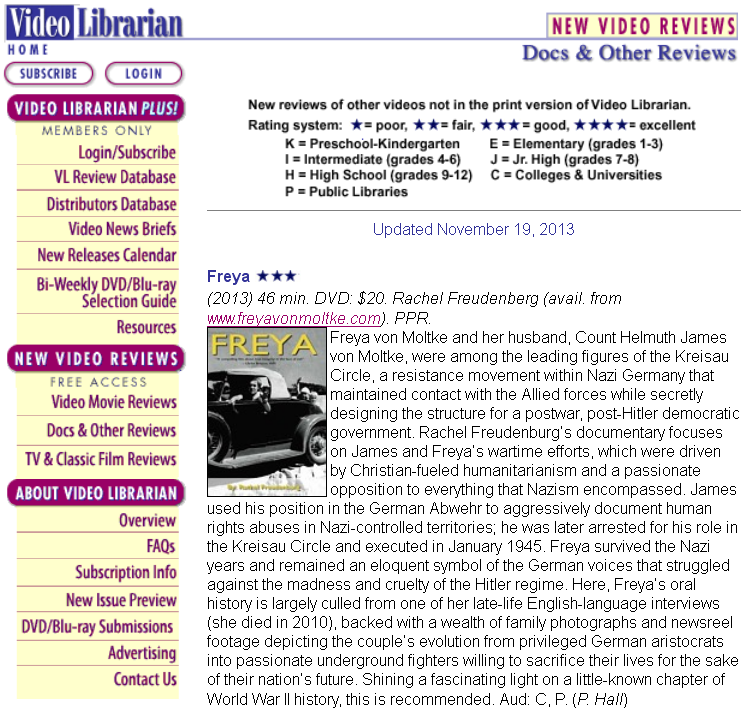 In the News:

November 19, 2013
New review of FREYA published by the Video Librarian:
Review:FREYA
November 15, 2013
Publication of Island of Peace in an Ocean of Unrest: The Letters of Dorothy von Moltke by Catherine R. Hammond. A collection of letters written in English by Freya's mother-in-law to her parents in South Africa between 1902 and 1934, chronicling Dorothy's experience in her newly adopted homeland.
For a full description, please click here:
Book: The Letters of Dorothy von Moltke
August 2013
FREYA now featured on the new website of the Freya von Moltke Foundation in Berlin.
Many thanks to Agnieszka von Zanthier and her team for their continued encouragement and support.
Please click here to see listing:
Film: Rachel Freudenburg "Freya"
Nicole Smith reviews FREYA for the June 28, 2013 edition of the Vermont Valley News
Please click here to read the review:
Legacy of a Witness to the Struggles of Good and Evil
We are proud to announce the release of FREYA on DVD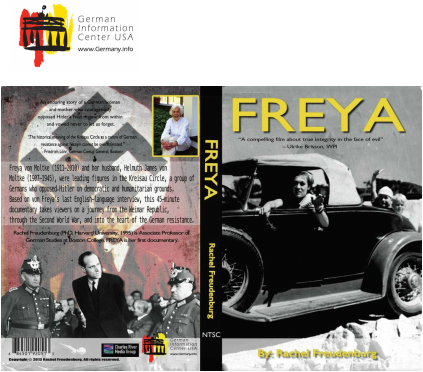 Boston, May 2013
Thanks to the gracious support of our sponsors (the German Information Center USA, the Adenko Foundation and the Jacques Salmanowitz Program) and the hard work of everyone who contributed to the FREYA documentary project
, the final video version of the movie is now available on DVD, in both NTSC and PAL formats. You may order a copy from our secure
webstore
and of course, we would appreciate your
feedback
and commentaries.
From the DVD cover:
An enduring story of a German woman and mother who courageously opposed Hitler's Nazi regime from within and vowed never to let us forget.
"The historical meaning of the Kreisau Circle as a centre of German resistance against Nazism cannot be overestimated" - Friedrich Löhr, German Consul General, Boston.
"A compelling film about true integrity in the face of evil" - Ulrike Brisson, WPI.
Freya von Moltke (1911-2010) and her husband, Helmuth James von Moltke (1907-1945), were leading figures in the Kreisau Circle, a group of Germans who opposed Hitler on democratic and humanitarian grounds. Based on Freya's last English-language interview, this 45-minute documentary takes viewers on a journey from the Weimar Republic, through the Second World War, and into the heart of the German resistance.
Chapter Index:
1) Freya
2) The Moltkes
3) Kreisau
4) Nazism
5) World War II
6) Kreisau Circle
7) Trial
8) Life after Kreisau
9) The New Kreisau
---
FREYA! awarded two sponsorships!

The German Information Center and the Adenko Foundation are sponsoring FREYA!
Film Background

During Germany's Nazi Era (1933-1945), Freya and her husband, Helmuth James von Moltke (1907-1945), were founding members of the Kreisau Circle, a group of politicians, military officers, educators, and businessmen who opposed Hitler's regime on democratic and humanitarian grounds. The group was named after the von Moltke family estate situated in the small Silesian village of Kreisau. Today the estate goes by its Polish name: Krzyżowa. Regrettably, the Gestapo discovered Helmuth von Moltke's connections to other well-known members of the German Resistance and he was executed in January of 1945. Neither her husband's death, the loss of her home, nor the overall failure of the German Resistance dissuaded Freya von Moltke's belief in the potential of democratically structured organizations to carry humanity forward into a more peaceful future.

Today, due in large part to Mrs. von Moltke's dedication and guidance, Kreisau is home to the "Center for European Understanding." This organization proudly supports several programs fostering democratic practices and European integration. The Freya von Moltke Foundation for the New Kreisau, established in 2005, sees to the Kreisau Center's financial solvency. Through her books, interviews and speeches Freya von Moltke also helped shape Germany's public remembrance of the Resistance, and helped transform a national shame into an opportunity to embrace democracy, create understanding and increase tolerance.

Freya von Moltke died on January 1st, 2010. Consul General of the Federal Republic of Germany, Dr. Friedrich Löhr, attended her funeral in Norwich, VT. In attendance at her Memorial Service in Berlin were the President of the Federal Republic of Germany, Ernst Köhler; the Polish Ambassador to Germany, Marek Prawda; and President of the European Parliament, Jerzy Buzek.

---

About the Director

Rachel Freudenburg is originally from Detroit. She graduated with a Ph.D from Harvard University in 1995 (B.A. Wayne State, M.A. Washington University) and joined the

German Department at Boston College

that same year. In 2002, she obtained the rank of Associate Professor with tenure. Her research interests include German film, 20th-century German literature, feminist literature and the works of Heinrich von Kleist. She is an active member of

Women in German (WIG

), and has published on the Stefan George Circle, Heinrich von Kleist, Thomas Bernhard, Hansel and Gretel, masculinity, friendship in 20th-century German culture, and the Kreisau Circle.

FREYA!

is her first film project.

---

Press Coverage

Richard Duckett reviews FREYA!


Click on the March 17 link for an article on FREYA!


Local news website interviews director Rachel Freudenburg.


Film Project

FREYA! is a 45-minute documentary film about Freya von Moltke (1911-2010), based on her last English language interview conducted in 2002. Amy Evans, the narrator, guides viewers through the Weimar Republic, the Second World War, Helmuth James and Freya's decision to resist Hitler--whatever the cost--Helmuth's arrest, imprisonment and trial, the postwar years and finally, Freya's involvement in the New Kreisau. Excerpts from Helmuth's "Letters to Freya," hundreds of historical photos, stock footage, the piano music of Bach and Busoni--perfomed by Veronica Jochum--and Gasieniec's "Kreisau Oratorio" bring this compelling story to life.


---

World Premiere at Goethe-Institut Boston

On January 23, 2011, the Goethe-Institut Boston and the German Consulate in Boston co-sponsored a Tribute to Freya von Moltke commemorating the one-year anniversary of her death. This film was the centerpiece of this event and will serve as a permanent memorial to a strong, independent and inspiring woman while also generating interest in her life's work and her unfaltering dedication to democratic ideals.

---